VANCOUVER ISLAND IS A CANADIAN PARADISE PERFECT FOR YOUR NEXT ROAD TRIP OR VACATION
With travel options being extremely limited for Canadians, there's no doubt about it that the world looks a lot different now. However, if you live in Canada and often spend your vacations out of country, this is the perfect opportunity for you to explore your own backyard!
Have you experienced all that Vancouver Island has to offer yet? We at TierOne Travel had the experience to spend a couple of weeks on the Island this past autumn and can't stop raving about how beautiful Vancouver Island is!
The Island is a nature lover's paradise, chock-full of rugged beauty, mystical waterfalls, sprawling beaches, meandering boardwalk trails, massive trees in lush forests, and amazing sea life and wildlife.
Read on to discover our recommendations of what to see on your own Vancouver Island Road Trip!
---
VANCOUVER ISLAND QUICK FACTS – WHAT TO KNOW BEFORE YOU GO
Where to go – HIDDEN GEMS
Plenty of people seem to focus only on Victoria, Tofino, and Nanaimo areas when they plan a trip to Vancouver Island. All of these areas are beautiful and interesting and "must-do's", but Vancouver Island has so many hidden gems to explore! We are going to share those with you, too.
CELL PHONE SERVICE AND FUEL
When road-tripping across Vancouver Island, you will be visiting plenty of smaller communities and villages. Some of these may be without gas stations, restaurants, stores, and even cell phone service, so make sure you have everything you need before leaving one destination to the next. Download Google Map regions on your phone, plan your fuel stops, and bring a cooler full of food and water.
HOW TO GET TO VANCOUVER ISLAND
Take a Ferry to Vancouver Island
The main connection between Vancouver Island and the mainland is BC Ferries. They offer regular (often hourly) service between BC destinations. You can leave Vancouver from Horseshoe Bay or Tsawwassen terminals and arrive in either Victoria or Nanaimo.
CONSIDER BookING Your Ticket Ahead of Time
It's usually best to book your ticket well ahead of time, though it is potentially possible to book your ticket as soon as you arrive at the terminal for the next sailing, if there is space available. To book a ticket or to learn more about the ferry to Vancouver Island, contact your TierOne Travel consultant.
The best time to visit Vancouver Island
The best time to visit Vancouver Island depends on what your goals are! If you're hoping to enjoy the warm weather, hang out at the beach, go for a swim in the ocean and see whales, your best bet is to visit during the summer months. However, the summer months are also the busiest months for tourism.
If you are hoping for nice weather but far fewer tourists, consider visiting in the late spring or early autumn. The weather will still likely be pleasant, and there are still good opportunities to see whales (as well as bears!)
Another option is to visit Vancouver Island during the cooler months, from November through March. During these months, you will have a chance to storm watch, which is incredible to witness on Vancouver Island. Cozy up in your accomodation under a blanket with a cup of warm tea as you watch the waves crash outside your window. There are also far less tourists at this time of the year, though there is plenty more rain. (If there are certain attractions you really want to see, make sure to do a bit of research ahead of time to see what is and is not open, as some of the island may shut down during winter months.)
OUR RECOMMENDED VANCOUVER ISLAND ITINERARY
Of course, there are many different routes that you can plan to explore the island; it doesn't matter where you start or which direction you decide to take. To make your planning easier, we've put together one potential itinerary. This itinerary would be best for a 2+ week trip, but you can choose to take out stops as you wish to shorten the itinerary to your liking!
---
DAY 1 – ARRIVE IN VICTORIA AND TRAVEL TO SIDNEY
If you have taken the ferry by foot and need to rent a car, there aren't any rental companies near the ferry and you'll need to find one at the airport, which is less than 10km away. However, if you've taken your own vehicle on the ferry, then you're good to go!
Once you're in your vehicle, either your own or rented, you'll be heading to your first stop, which is not that far away…Sidney, a charming coastal town that is close to the ferry terminal in Swartz Bay.
SIDNEY, BC
The cute and quaint coastal community of Sidney is very much worth a stop as you make your way to Victoria.
Once you arrive in Sidney, take a walk along the seaside and then grab a bite to eat at one of the many delicious restaurants. After your tummies are filled, stroll through the streets and check out some of the artisan shops before returning to your vehicle to continue on to Victoria.
VICTORIA, BC
Check out Beacon Hill Park and Spiral Beach 
For your first evening in Victoria, depending on how much time you have left in the day, we recommend checking out both Beacon Hill Park and Spiral Beach.
Check out the World's Tallest Free-Standing Totem Pole
Once in Beacon Hill Park, make sure to see the world's tallest free-standing totem pole – it's almost 39 metres tall!
---
DAY 2 – FULL DAY EXPLORING VICTORIA, BC
Now that you've made it to Victoria, spend the second day of your trip exploring all that this beautiful city has to offer!
Check Out Downtown Victoria
Head to downtown Victoria and grab some breakfast or brunch, then wander the streets downtown. There are so many adorable shops, pretty streets, cafes, and gorgeous architecture to ogle at.
Spend some time wandering Chinatown as well. We highly recommend at least a couple of hours spent downtown!
Enjoy a Free Tour of Victoria's Parliament Buildings
Go on a free tour of the parliament buildings! This is a wonderful way to get to see Victoria's lovely parliament buildings. Afterwards, find a nearby grab & go lunch spot and enjoy your lunch picnic-style, perhaps on the beautiful parliament grounds you just toured.
Enjoy some time at Fisherman's Wharf Park
This is one of our absolute favourite spots in Victoria, and it is only 15 minutes walking distance from the Legislative Assembly of British Columbia. Meander along the harbour, visit one of Victoria's museums and marvel at the colorful houseboats in Fisherman's Wharf Park.
WATCH THE Sunset at McNeil Bay
After a delicious dinner, find these (permanent) chairs at McNeil Bay and take in the sunset from your perch on the rocky bluffs. The perfect way to end your day in Victoria!
---
DAY 3 – TRAVEL FROM VICTORIA TO SOOKE
Sadly, it's time to depart Victoria and begin the drive to Sooke, BC. The good news is, here you will get to go hiking on Vancouver Island for the first time of your trip!
Sooke is less than a 40 km drive from Victoria, so today will not be a long day of driving. However, along your drive, make sure to stop at Spirit Bay, which we think is a hidden gem!
MAKE A Stop At Spirit Bay
Spirit Bay is a cute seaside village nestled in an ancient forest. We love the feeling of Spirit Bay – it has the charming feeling of a small town in a majestic natural surrounding. Make some time to stop at this beautiful community!
VISIT East Sooke Regional Park
Next, stop at East Sooke Regional Park. You're just 10 minutes away once you are finished in Spirit Bay!
Here, you have several hiking options to choose from, and all are beautiful. We recommend hiking to Creyke Point, which also has a beach, so you can relax on the beach after your hike.
Check Out Sooke Potholes Provincial Park
After your visit to East Sooke Regional Park, go swimming at Sooke Potholes Provincial Park (if the weather is nice). Otherwise, this spot is definitely still worth a walk, exploring, and photos. It's a beautiful place to go for a swim or to have a picnic, but it might be really busy depending on the time of the year you visit. Either way, this spot has multiple parking lots and plenty of room to spread out away from the crowds.
After your visit to Sooke Potholes, head into Sooke and grab a bite to eat and settle in for the night at your accomodation.
---
DAY 4 – SOOKE TO PORT RENFREW / COWICHAN LAKE
Have a quick breakfast, then head to one of the Vancouver Island beaches we can't stop raving about – Mystic Beach!
Mystic Beach
Not only is the beach stunning, but the hike itself through a dense forest is really beautiful. It can get muddy, so bring good footwear! There is even a suspension bridge on the way, which is perfect for photo ops.
Once at Mystic Beach, you'll find a waterfall that tumbles down onto the beach. There is also a swing on the beach, if you can find it and manage to hop on!
Tip: Pack a blanket and some snacks, as you will want to stay awhile here!
Continue on to Port Renfrew
Continue driving to Port Renfrew. Once you arrive, head down to the water and take in the views from the Pier. There are plenty of hikes in this area as well. Stop for lunch at the restaurant located on the Pier for gorgeous views, delicious food and great brews.
EXPLORE BOTANICAL BEACH
Botanical Beach Provincial Park is only 3 kilometres south of Port Renfrew, and you don't want to miss this beautiful spot, where incredible geological features create tidal pools rich in marine creatures and plants. During low tide, you can walk a long way out across flat sandstone outcroppings and view the almost magical tide pools. Just watch your step, and don't touch any living organisms!
Avatar Grove and Big Lonely Doug
If you still have time left in the day, and if you have a four-wheel drive and like unique trees, consider going to Avatar Grove for a beautiful hike, and then visiting Big Lonely Doug, 15 kilometres north of Port Renfrew. Big Lonely Doug is the second largest Douglas-fir in Canada, and a stand-alone tree, which makes for a great photo op!
After your day of outdoor exploring, continue on your drive, grab some dinner and then turn in for the night at your Lake Cowichan-area accommodation.
---
DAY 5 – LAKE COWICHAN TO NANAIMO
On day 5, you will be driving from Lake Cowichan to Naniamo, which is about an hour.
We recommend doing a quick detour down south to the Kinsol Trestle, which should take a little less than 1 hour to drive in total.
Kinsol Trestle
Kinsol Trestle is one of the world's tallest free-standing rail trestle structures, at 44 metres high and 187 metres long. It is about 100 years old, with the last train crossing the trestle in 1979. Since then, it was abandoned, until it was reopened in 2011 for walking, cycling and equestrian usage. If you do visit, grab some food to make a picnic, as there are several picnic tables around the trestle.
Chemainus
After your time exploring the Kinsol Trestle, it's time to drive up the coast! Stop along the way in Chemainus, which is a charming small town that is filled with many murals. Once here, you're only about 30 minutes from Nanaimo!
FIND THE BEST NANAIMO BARS IN NANAIMO
They're absolutely delicious, and there are many places to purchase them from in Nanaimo! Consider doing the Nanaimo Bar Trail – a self-guided tour of Nanaimo cafes to try out their different Nanaimo bar offerings!
SUNSET AT Pipers Lagoon
Sunset at Pipers Lagoon is an absolute must-do! Pipers Lagoon is beautifully situated right at the waterfront. The perfect place to take in the sunset and end your day!
---
DAY 6 – FULL DAY IN NANAIMO
Find a diner or cafe for breakfast and stroll around Nanaimo's cute downtown, which features murals, artisan and antique shops and very pretty buildings.
12pm: ATTEND THE Cannon firing at the Bastion
If you're visiting during the summer, be sure to make your way down to the Bastion before noon, which is located down at the harbour. At the plaza right next to the Bastion, you can listen to bagpipes and watch a cannon firing reenactment at 12pm.
STROLL ALONG THE HARBOUR
After you're done at the Bastion, stroll around Nanaimo's harbour and find a nice lunch spot. Spend the rest of your day visiting Nanaimo's  museums, exploring the parks in Nanaimo, or continue on the Nanaimo bar trail (if you didn't complete it yesterday!)
---
DAY 7 – DRIVE TO TOFINO
Are you ready to see some truly amazing views? Then you'll love today! It's time to head to one of the most popular spots on Vancouver Island – Tofino!
There's many beautiful views to see on the way, so try to start your day as early as possible. Your first stop is only 45 minutes away – Little Qualicum Falls Provincial Park.
Little Qualicum Falls Provincial Park
Stop here to check out the waterfalls and hiking trails – it's beautiful! Spend as little or as much time here as you like, then continue on your journey.
Cathedral Grove
We highly recommend a stop at Cathedral Grove, which has some of Canada's tallest and oldest trees. This spot might be busy during peak tourist season.
The Rainforest trail
This is a great backup plan if Cathedral Grove is too busy – beautiful boardwalk trails, but often far less people!
Port Alberni
This is another adorable and quaint community to stop and wander in.
Also, be ready at anytime to make quick stops on the side of the road on the way to Tofino in general – the scenery is amazing!
---
DAYS 8-10 – 3 DAYS SPENT IN TOFINO AND UCLUELET
3 days in Tofino and Ucluelet is the perfect amount of time to explore the area, which is full of beautiful beaches and gorgeous hikes, plus charming shops to explore and delicious restaurants. However, if you are planning to take whale watching tours, learn to surf, schedule a seaplane flight etc then you might want even more time in these areas so you don't feel rushed!
exPLORE Downtown Tofino
Start your first day in Tofino with a stroll around the town and along the water – it's absolutely beautiful! Enjoy browsing through cute shops and take in beautiful views of the ocean.

HIKE TO A BEACH
When you're all finished exploring downtown, how about taking a hike to a beach? Hiking on Vancouver Island often ends up with a stop at the beach at the end of your hike – what a perfect combination!
We recommend the Tonquin Trail, which starts at Tofino Community Hall and takes you through lush forest to beautiful beaches viewpoints.
If the weather is pleasant, you could stay at a beach for the rest of the day and watch the sunset. As always, consider packing a picnic in your backpack! You might even see whales from the beach viewpoints.
Ucluelet's beaches are more rocky and rugged and also very much worth multiple visits.
Another hike we recommend is the Wild Pacific Trail in Ucluelet, which offers incredible views! Start at the Ancient Cedars Loop Trail and continue along the coastline. The trail offers many rest stops at benches and beautiful viewpoints.
The Lighthouse Loop
Another must-do hike is the Lighthouse Loop, which takes you to a beautiful lighthouse.
Radar Hill
Possibly the shortest hike on Vancouver Island is the hike up to Radar Hill (just a few hundred meters long). It has a really nice lookout at the top!
The crashed bomber plane
This is a longer and quite unique hike, as the this trail leads you to a crashed bomber plane site!
VISIT NEARBY LONG BEACH
There are several beaches nearby to the Bomber Plane site that you can choose between, and we think Long Beach is definitely worth a visit!
VISIT WICKANINNISH INN AND BEACH
No matter what, you need to have a meal at Wickaninnish Inn's restaurant (AMAZING views) and then check out their beach. This is one of our favourite places in the Tofino and Ucluelet area!
---
DAY 11 – DRIVE FROM TOFINO TO PARKSVILLE
Unfortunately, it is time to leave Tofino and drive to Parksville, back the way you came. If you had to miss any stops on your way to Tofino, now is your chance to stop and see them!
Here are some of our recommended stops:
Goats On Roof
Goats On Roof in Coombs is a must see. This family-owned country market has actual goats on the roof, grazing. They are known to have delicious donuts, so stop and grab one (or five!)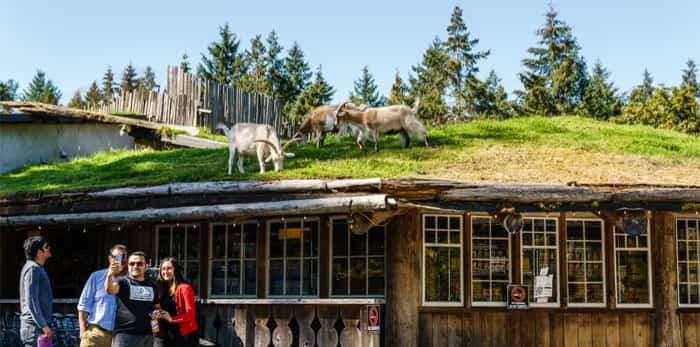 Adventure Golf in Parksville
Parksville is located by the water, and of course you will want to explore its waterfront. However, it's also a great place to try your hand at a round of adventure golf at Riptide Lagoon Adventure Golf.
You can spend the rest of your evening exploring all that Parksville has to offer. Get a good nights sleep, as tomorrow you will leave bright and early to drive up the coast!
---
DAY 12 – PARKSVILLE TO COURTENAY
BREAKFAST AT Spider Lake Park
This is a wonderful place to have a picnic and start your day with breakfast at the beach!
VISIT Horne Lake Caves
This is a unique place where you can explore underground waterfalls and fossils and choose from several different tour options.
HANG OUT WITH Fanny Bay Sea Lions
Continue along the coast on Highway 19A and stop at Fanny Bay to (hopefully) see the Sea Lions. They are usually around the dock, enjoying the sun – fingers crossed!
STROLL AROUND DOWNTOWN Courtenay AND END YOUR DAY AT NYMPH FALLS PARK
Arrive in Courtenay and take a quick stroll downtown to stretch your legs, then drive to Nymph Falls Park and explore the natural beauty here. It is only 10 minutes by car from Courtenay and there is plenty of hiking here!
Goose Spit Park and Fisherman's Wharf Boardwalk
End your day by the water in Comox, just 5 kilometres east of Courtenay. Here you can visit Goose Spit Park, which offers beautiful views and a nice boardwalk, called Fisherman's Wharf Boardwalk. You can perhaps even see eagles!
---
DAY 13 – STRATHCONA PARK HIKING AND CAMPBELL RIVER
There are so many opportunities to go hiking on Vancouver Island, and this is one of our favourite hiking areas on the island!
Get up bright and early and pack plenty of snacks if you're planning on doing one of the longer hikes. We think that Strathcona Park truly is a hidden gem on Vancouver Island and you'll love exploring here!
Paradise Meadow Loop Trail
Check out the Paradise Meadow Loop Trail which is a short 3.5 km hike that offers beautiful views!
There's so much to see and do in Strathcona Park, but you also don't want to miss Campbell River.
Fisherman's Wharf in Campbell River
Check out the harbour, view the murals and wander Robert V. Ostler Park where you can find a bench to enjoy the view.
---
DAY 14 – DRIVE FROM CAMPBELL RIVER TO WOSS
Elk Falls Provincial Park
Elk Falls Provincial Park is a really cool place with a suspension bridge, and Elk Falls waterfall and best of all, it's completely free to visit. There's a lot to see here so give yourself plenty of time!
Hiking the Ripple Rock trail
Another unique hike on Vancouver Island that leads to a viewpoint looking over Ripple Rock, which is an underwater mountain. The hike is a 4km moderate to difficult hike each way, providing a view of the narrow strait where many ships have sunk because of Ripple Rock's underwater peaks. A must-see!
Woss Fire Lookout
The drive to the Woss Fire Lookout is up a steep and rough road that isn't suitable for all vehicles! However, if you are driving a vehicle that can handle it, you'll see a beautiful view from the lookout. You can also hike the road if you are ambitious!
If you only have two weeks to spend on Vancouver Island, you might want to drive back to Nanaimo to catch a ferry to Vancouver or go to the airport this afternoon. However, if you have just one more day, you'll make it to the last stops in this Vancouver Island itinerary!
If you have another day or two to spare, consider going to one of our favourite destinations on Vancouver Island: Port Hardy.
DAY 15: DRIVE FROM WOSS TO PORT HARDY
Our last stop on this itinerary is Port Hardy, which has so many beautiful views to see on the way as well.
Little Huson Cave Park
This hidden gem on Vancouver Island starts with a hike that takes you to a beautiful cave you can explore inside of that is full of beautiful limestone and cave formations. A short hike from the parking lot will take you to both a viewpoint as well as these amazing caves. Worth the bumpy drive!
Telegraph Cove
Next stop is Telegraph Cove – a picturesque community on the Northern coast of the Island with about only 20 inhabitants. There are cute shops and cafes to visit, and a beautiful and colorful harbour.
Port McNeill
A small town that is a great place to stop to stretch your legs and explore during your journey.
Storey's Beach
Make a short detour at Storey's Beach and spend some time there; the views are beautiful!
Port Hardy
When you arrive in Port Hardy, stop at the visitor centre and then go for a stroll along the water. This is such a cute little community to visit!
That's it, that's all! It's time to head back to Nanaimo to catch your ferry back to the mainland.
We hope you've enjoyed our Vancouver Island Road Trip Itinerary. Feel free to design your own road trip itinerary around any of these recommendations, or follow the itinerary to a T if the timeline works for you.
When you're ready to explore Vancouver Island and make your travel dreams come true, contact one of our TierOne Travel agents today! They have extensive experience in life-changing travel and will be able to craft something incredible that is suited to your unique needs, at the best prices possible. One call; endless experiences!
"Travel is the only thing you buy that makes you richer." – Anonymous